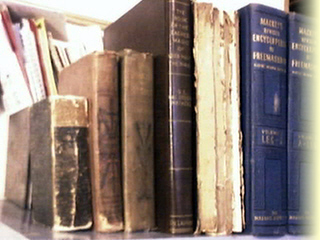 The Library
Here is a collection of materials which I feel are of value to the serious student of Occultism. These materials were edited and converted to PDF by myself and others in order to ensure they remain available and in good editions. I shall continue to add materials as they are completed. All texts are public domain under International and Canadian copyright laws.
A wider collection of my own work both formal essays and my Occult Blog are available.
---
100: General Occult
---
200: Spirituality
---
300: Magic
---
400: Hermetics
---
500: Enochian
---
600: Astrology
---
700: Inner Work
---
800: Religion
---
900: Charts and Worksheets
---
Disclaimer and Copyright
All materials on this page are either used by permission of the author or, in the case of deceased authors, are in the Public Domain according to Canadian Copyright Law. Section 6 of the Canadian Copyright Act (C-42) states:
The term for which copyright shall subsist shall, except as otherwise expressly provided by this Act, be the life of the author, the remainder of the calendar year in which the author dies, and a period of fifty years following the end of that calendar year.(R.S., 1985, c. C-42, s. 6; 1993, c. 44, s. 58.)
Other provisions exist for publications where the author or one of the authors is unknown. They do not apply here.
The relevant section can be examined at the Copyright Board of Canada.